Workshop: 419fiction-Revisiting the spam folder
Workshop: 'Revisiting the spam folder' – Using 419fiction for Interactive Storytelling
The workshop is organized by Andreas Zingerle and Linda Kronman (kairus.org).
Past workshops, lectures and presentations:
08/15: ISEA conference, Vancouver/Canada.
08/15: Workshop at Electronic Literature conference, Bergen/Norway.
02/15: Workshop at Digital Culture Research Group, University of Bergen, Norway.
11/14: Workshop at Internet research conference, Deagu, Korea.
05/14: Workshop at Art meets radical openess Festival, Linz, Austria.
04/14: Workshop at Bilgi university, Istanbul, Turkey.
11/13: ICIDS 2013, 6th International Conference on Interactive Digital Storytelling, Bahcesehir University, Istanbul, Turkey.
09/13: Lecture at Webscience Department, University of Art and Design, Linz, Austria.
04/13: Dystorpia New Media Series, Local projects, 5 points, New York.
06/12:  Department of Journalism and Communication, University of Lower Silesia, Wroclaw, Poland
Please register for the Workshop!

Send email to Andreas Zingerle: mail at andreaszingerle dot com
Abstract:
This workshop will be offering the participants both a theoretical and practical introduction to interactive narratives in '419-fictional environments' created by scammers and anti scam activists. We seek to understand different sides of online fraud and through creative storytelling reflect on issues like online privacy, virtual representation and trust within networks. We also draw parallels to other practices and cultures like: gaming, storytelling or creative activism.
Through a 419 fiction toolkit participants take the first steps of creating their fictional characters and infiltrating a scammers storyworld to observe and interrupt their workflow. We explore how persuasive narratives are setup, how characters are designed and how dialog is exchanged to build trust between the acting parties. We will use social media and various content generators and other tools to orchestrate internet fiction. By reflecting on scam bait experiences we enter a discussion around the topic of interactive narration connecting to the participants' and their general work in this field.
Keywords: Internet fraud, Unsolicited electronic mail, Digital storytelling, Computer mediated communication, vigilante online communities.
Introduction:
With the term '419-fictional environments' we refer to computer mediated story worlds where advance-fee fraud is used as a confidence trick to lure the victim into paying a fee in advance, with the future hopes of getting a larger amount of money in return. Internet and new communication systems have rapidly increased the opportunities for the scammers to reach victims. At the same time they have helped the scammers to hide their personalities and their working practices. The various types of cyber crime are often called 419-scams, 419 referring to the Nigerian Criminal Code dealing with cheating and fraud.
The workshop will give participants valuable first hand insights into raising awareness about online advance-fee fraud scams and to raises issues of trust betwixt and between real and virtual. This by exploring the practice's of scambaiters. Scambaiters are persons who reply to scam emails, being fully aware that the emails are written by scammers. The scambaiters turn the tables and lure the scammers into incredible story-plots, always giving the scammers the feeling that they will get a lot of money. Scambaiters do this for different reasons.
Tuovinen et al. [1] illustrate three possible motives: community service (social activism), status elevation and revenge. The workshop provides a base to discuss if components of scambaiting culture can be used in terms of community service in form of creative activism. We also welcome discussion around the game like interaction that takes place between the scammer and the scambaiter. How story worlds are build, which tools to stay anonymous are used, how characters are designed and dialog exchanged to build trust between the actors.
Intended audience:
The intended audience of this workshop would be students, artists, writers, narrative designers, and other people involved in the creation of Interactive Digital Narratives on a practical level or those with an interest in that direction. However we particularly welcome those that are interested in one or more of the following areas:
– Interactive Digital Storytelling and the use of Social Media
– Storyworlds of fraudulent activities online
– Trust in online representation and Computer mediated Communication,
– online anonymity
– Ethical scambaiting, tools for creative activism
– Vigilante Digital Communities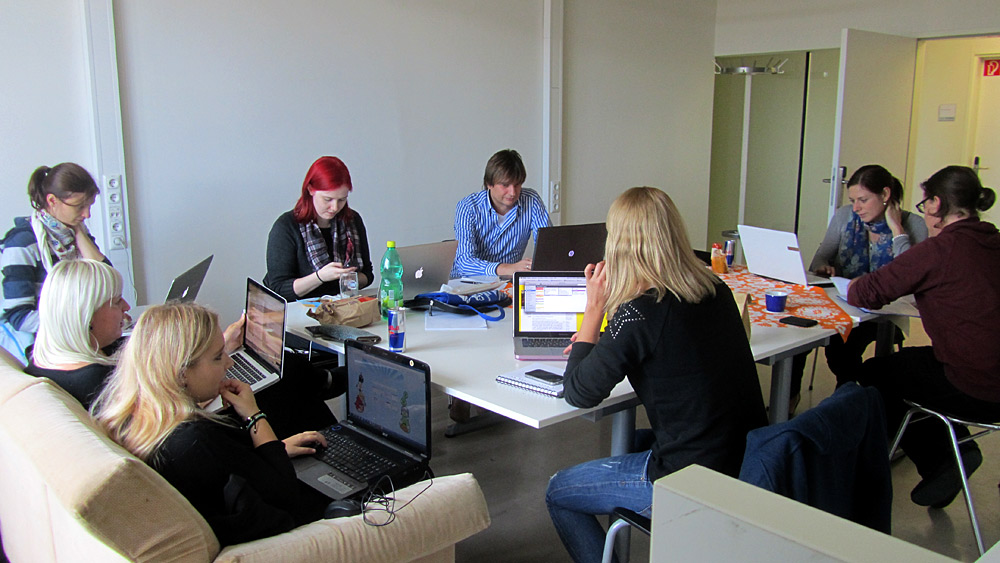 Photos from a lecture at the WebArt+Design department / University of Art and Design Linz, Austria.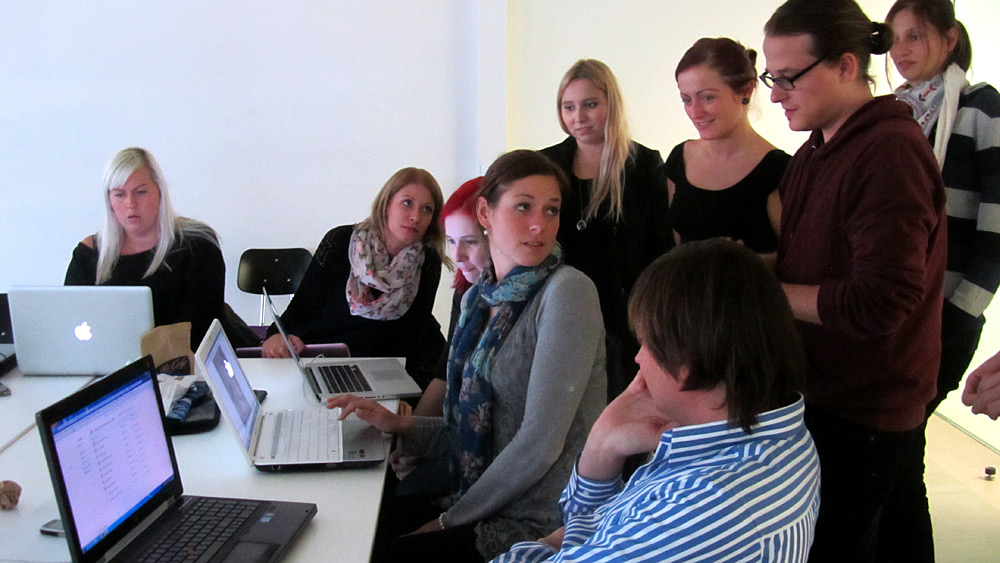 Targeted participants: MA students, early career researchers (PhD candidates), activists.
Attendees should be willing to actively participate in the discussions and the practical exercises which require to bring an own laptop, decent internet connection, some improvisational role-playing, internet savvyness and an active imagination. We imagine an ideal group size of 8-15 participants.

Format:
Half to full day workshop with theoretical introduction and a practical module. The theoretical module introduces the participants to the history of scamming, different types of scams and how the world of fraud has been dealt with in different genres – ranging from pop culture to modern art. The practical part of the workshop starts by introducing the participants to a specially designed 'Scam the Scammer Kit', a collection of tips for secure and ethical scambaiting, instructions how to start a non-traceable design of a new identity, tools to design a credible character and a storyworld around the bait by using trans media storytelling methods, social media and various content generators.
By playing the '419 card game' participants learn the most common online scam types:

References:
1. Tuovinen, L. et al.: Baits and beatings: vigilante justice in virtual communities. Proceedings of CEPE 2007. The 7th International Conference of Computer Ethics: Philosophical Enquiry, 397405 (2007)
2. Ryan, M., Renner, K., Ho, D., Krings, M..: Gesellschaft-Medien-Narration. DeGruyter, Berlin (2013)
3. Brunton, F.: Spam: a shadow history of the Internet. (2013)
4. Zingerle, A., Kronman, L.: 419fiction – anti-fraud activism, http://419fiction.kairus.org/