Tool boxes & pouches used for physical computing
Posted on:
July 5, 2015
/

With this  boxes and pouches I want to cover the essential tools one might need for hands-on physical computing activities like creating and testing your prototypes or setting up your artworks at exhibitions. Often students are unsure which tools they should buy or might need and how to store them. This pouch is inspired by the survivalists subculture, who are actively preparing by gathering the essential needs for emergency situations. For this example I use a Tasmanian Tiger Tac pouch but any other box or bag works just fine. Packed with the content shown below the pouch weights 1.6kg and is (of course) not TSA approved, so you better pack it in your checked luggage! The bag was designed with tools that were on hand in the workshop, it should illustrate the basic needs and certain tools like screwdrivers, pliers or cutters can always be replaced by multi-tools, a soldering iron can be replaced by a travel version that is battery powered. There is always room to go smaller and reduce it to the max.
As part of the lecture series in Sensor technologies at the University of Art and Design in Linz Austria, students are asked to create their own bags and discuss in groups what they bring along when they work on or install their electronic and sensor based installations.
Example content of the pouch: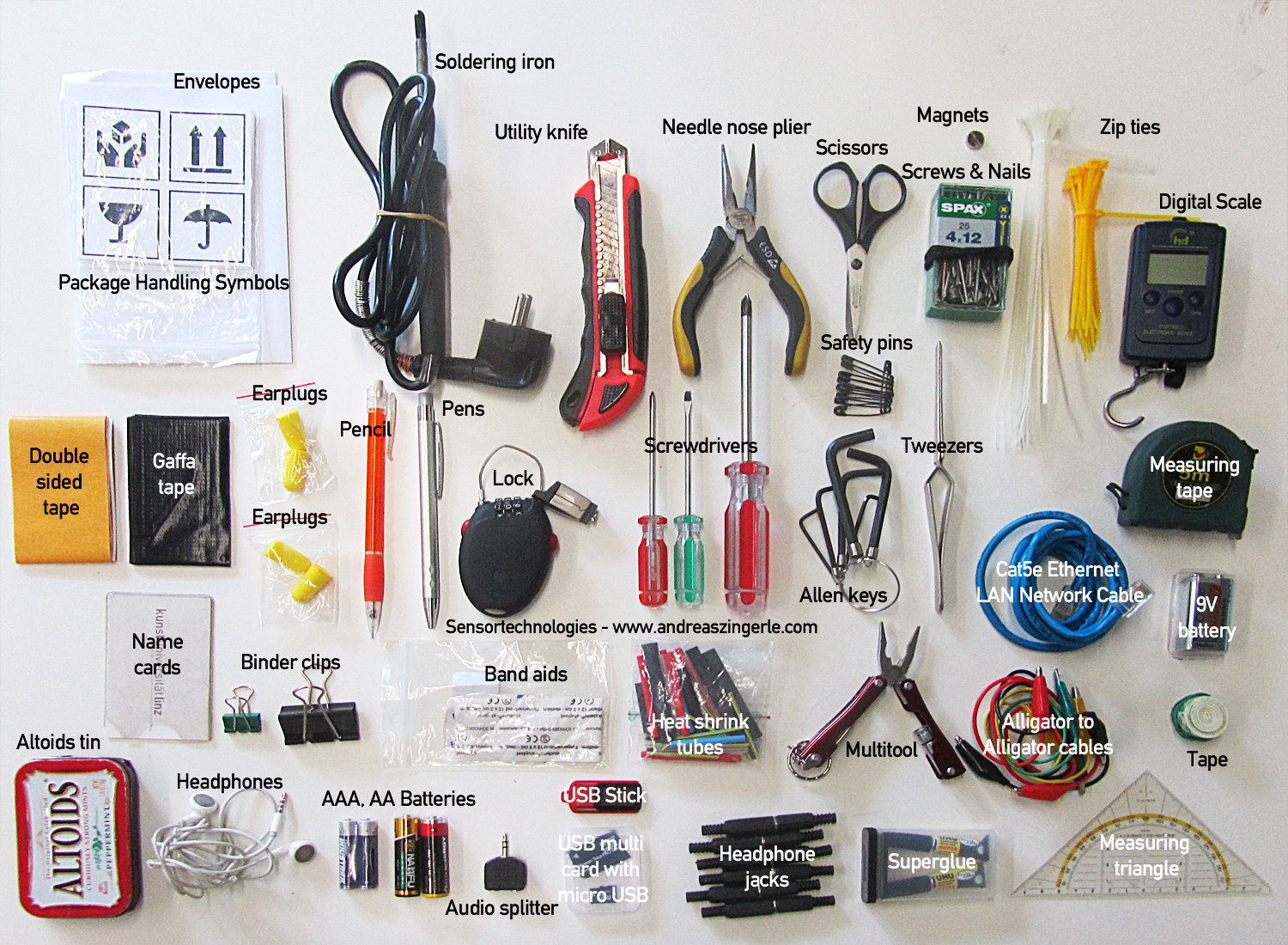 The list is not complete and the pouch often gets re-packed for different needs. It is part of a multi-tiered system and is designed to complement the basic tools you might have in your workshop, prototyping kit, office & research compartments, basic medical kits, or other (heavier) tool-sets carried along in separate bags.